Glass Laboratory Continuous Wiped Film Evaporation Equipment
Product Description
In the thin film evaporator, the material is evenly distributed into a thin film by the scraper or rotor on the inner wall of the evaporator. Due to the high heat transfer efficiency of the liquid film, the light components are evaporated in a very short time, and the light components after vaporization are evaporated. The components are condensed and liquefied in an external condenser, thereby realizing the separation of the two components. The wiped film evaporator is mainly used for the separation of heat-sensitive and high-boiling products.
Share
Glass wiped film evaporators are suitable for distillation, separation, concentration, stripping, dehydration and deodorization of heat-sensitive or viscous products. Glass wiper evaporators excel at thermal separation due to their jacketed glass and corrosion-resistant tube sections.
Wiped film evaporators are ideal for handling difficult, heat sensitive and sticky materials. Often equipped with rotating wipers, it accelerates the evaporation process by maintaining turbulent flow of the product film, thereby optimizing heat and mass transfer.
The glass evaporator unit is equipped with a heating/cooling circulator as well as a vacuum pump for better functionality. These evaporators were developed due to the need to purify temperature-sensitive products by evaporation.
Pressure sensitive glass evaporators can be operated at medium or low evaporation temperatures to minimize product residence time in the evaporation chamber.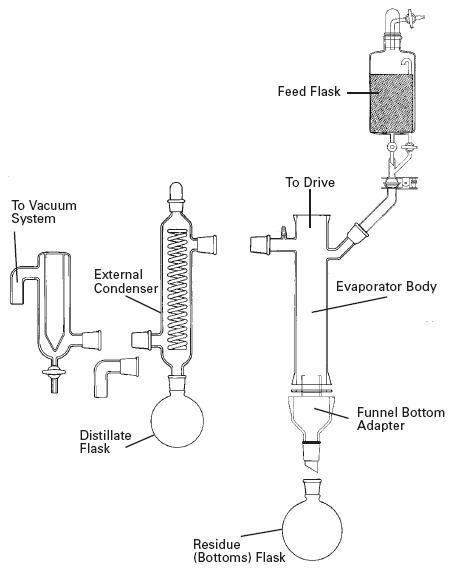 How does a glass wiped film evaporator work? Send Inquiry Now!
In glass scraper (or thin film) evaporators, a rotating scraper system distributes the coarse product onto a thin film on the inner surface of the heating tube. The wiping system then accelerates the evaporation process by maintaining a turbulent flow of the product film to ensure optimal mass and heat transfer.
Low boiling point evaporation of the raw material in the evaporator; quickly ensures a very short residence time in the product wall. The vapor is then condensed on an external condenser and the concentrate is continuously drained from the bottom of the evaporator.
The wiping system guarantees uniform laminar mixing of the film over the entire evaporator surface. Dead space can be eliminated by wiping the unheated area and overlapping the rollers. At the same time, the liquid film on the drum is constantly renewed.
The glass thin film evaporator system completely avoids the build-up or clumping of material on the evaporator surfaces and drums that can occur with other wiping systems. The high wiping frequency and resulting boundary layer renewal rate ensures high evaporation rates.
Centrifugal force drives the wipers against the evaporator wall. Heated with hot oil or steam, the viscosity of the liquid will determine the rotational speed of the drive.
The device operates intermittently, and the feeding volume is generally designed at 0.1~3L/h. Please refer to the equipment specification table for purchase.
Technical Specification Sheet:
Model

AG-SFE70-4

AG-SFE70-7

AG-SFE125-15

AG-SFE150-25

AG-SFE180-30

Evaporator inner diameter

70

70

125

150

180

Evaporator area

0.04

0.07

0.15

0.25

0.3

Throughput (depending on product)

0.1~2kg/h

0.1~3kg/h

0.3~6kg/h

0.3~10kg/h

0.6~12kg/h

maximum design temperature
50~300℃ (maximum design temperature), it is recommended to operate at ≤200℃.
degree of vacuum
The vacuum system can be equipped with a primary or secondary vacuum system, and the minimum vacuum degree can reach 0.1Pa
The characteristics of glass wiped film evaporator
Due to the nature of the materials that make up the glass wiper evaporator, all contact parts are made of glass and PTFE to ensure minimal corrosion and degradation. Since they are designed for high vacuum distillation, these evaporators must be equipped with efficient condensers.
Any good glass wiped film evaporator should have all fire rated electrical and instrumentation. It is a device that should work at the lowest possible temperature to ensure little dwell time. A key feature that differentiates a glass evaporator from other types is that it allows visual inspection.
The use of mechanical or magnetic seals is an additional measure to eliminate any risk of leakage. The modular system of all glass components allows flexible design and quick assembly of the evaporator unit. Most wiped film evaporators offer digital control of motor speed. Others have more advanced levels of automation.
In addition, suitable glass thin-film evaporators have a smooth evaporation surface, are easy to clean, and come with reliable, long-lasting drives


Interesting
lnquiry


Inform usage scenarios and technical requirements
Recommended solution


Confirm the details, modify the plan

Customer confirm

Finished product testing, lssue running video and test report

Customer confirm
Production


Pay proofing fee
Recommended solution


Make Sample PI

Packing and shipping
Customer receipt


Guided installation and operation
Satisfied to Sign


Confirm bulk order
Products Can Be Custmized
The volume of the reactor has a wide selection range and can be customized according to customer needs;
The material of the equipment can be customized according to customer requirements, and can provide 304, 316, 316L, titanium alloy, Hastelloy, fluorine lining and other materials for selection.
Aishengke (Jiangsu) Chemical Technology Co., Ltd. was established in 2015. It is an engineering company specializing in providing small-scale research and development, pilot-scale scale-up, electronic-grade materials and fine chemicals industrialization equipment for reaction and separation operations. The company's address is located at No. 109, Liuyanghe Road, Xinbei District, Changzhou, Jiangsu Province. It has an office building of 1500 square meters, a R&D and analysis laboratory of 500 square meters, and an equipment processing and manufacturing plant of 4500 square meters.The company has a senior design team and a processing and manufacturing team, including process development, equipment design, 3D modeling and other designers, glass and stainless steel equipment processing and manufacturing groups, to ensure the high level of process technology development, simulation calculation, mechanical design and manufacturing process.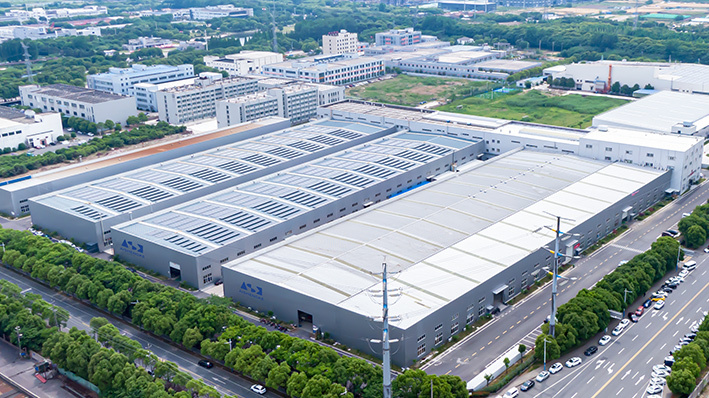 QUALITY
Quality frst is our basic philosophy.
TRANSPORT
Keep strong transportation capacity and excellent price.

WARRANTY
Warranty, parts and labor services.

PROJECT TEAM
A complete project team to provide customers with one-stop service.







Replace damaged parts

One year warranty lifetime maintenance

Online technical support
Process
Shot the acceptance video

Submit video within 7 days with broken or missing parts

Reissue parts by express
undefined
Global recruitment of distributors
If you recognize the brand, technology, products and market prospects of Aishengke, we look forward to establishing a strategic partnership with you for win-win cooperation and development. Looking forward to your joining!