Lifting Double Jacketed 100L Glass Reactor
Product Description
Borosilicate glass reactor vessel with bottom valve Glass dome with ports for inlet, solid feed, vacuum, etc. PTFE coated stirrer, mechanical seal Adjustable speed stirrer drive CE and ISO certificate.
Share
Automatic lifting 100L double-layer glass reactor
Jacketed reaction vessels are used for synthesis reactions of different types of materials in a controlled temperature and vacuum environment. The reaction vessel can be used as an all-in-one tool for extraction, purification, distillation and hemagglutination. The reactor consists of an inner vessel with one or two jackets, and the temperature difference created by the cooler is used to change its internal environment. The reaction vessel also operates under vacuum, making it ideal for any atmosphere-sensitive application. They can be made of glass and vary in volume from 1 liter to 200 liters.
Widely used in modern fine chemicals, biopharmaceuticals, scientific research and other industries. It can be concentrated, distilled, refluxed, separated and purified under constant speed, constant force and constant temperature. The reactor is an ideal instrument for teaching, experiment, pilot test and production.
1. The reactor body is made of borosilicate glass (GG-17), which has excellent physical and chemical properties, and the bottle body is transparent and visible.
2. The main body adopts stainless steel frame + aluminum alloy, which is beautiful and strong, and is corrosion-resistant.
3. The stainless steel stirring rod is surrounded by polytetrafluoroethylene, which is suitable for stirring various solvents, without pollution and corrosion resistance.
4. The stirring motor and the lifting motor are all low-speed booster motors, with stable operation, large torque, no sparks and long service life.
5. PTFE components + mechanical seal, proprietary technology, good vacuum degree and long service life.
6. The speed controller of this product is double digital display for speed and temperature. The speed can be set by the speed control knob, which is intuitive and convenient. It is also equipped with a temperature probe (PT100) in the kettle (which can display the temperature of the material in the kettle).
7. The overall structure is compact and reasonable, with a brake universal wheel, which can be moved as a whole and is easy to operate.
8. The glass oblique discharge valve without dead angle can effectively reduce the dead angle of mixing, and the feeding is convenient.
9. This product has a vacuum display function, which can select the best working vacuum for high boiling point materials.
Product Introduction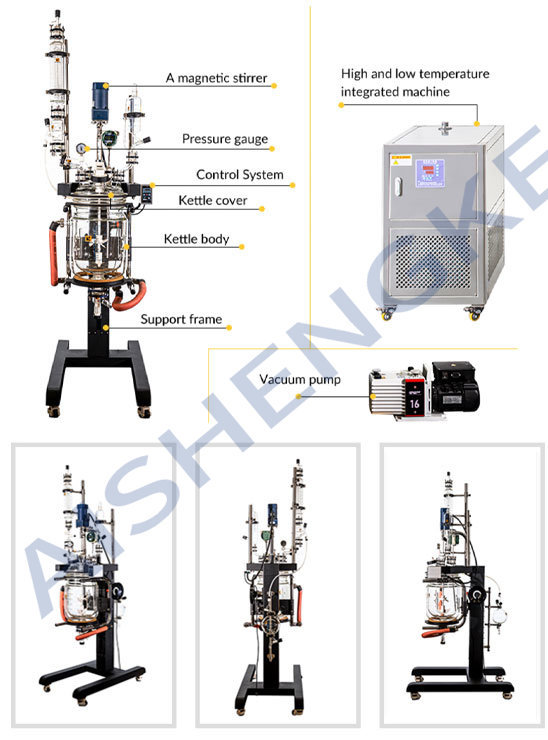 Application Area
We will help customers to solve out problem in each research, most commonly in petrochemical industry, fine chemical industry, biopharmaceuticals, energy and environmental protection industry.
| | | |
| --- | --- | --- |
| Scientifc Research | Chemical Engineering | Pharmaceuticals |
| Semiconductor | Medical Science | New Energy |


Interesting
lnquiry


Inform usage scenarios and technical requirements
Recommended solution


Confirm the details, modify the plan

Customer confirm

Finished product testing, lssue running video and test report

Customer confirm
Production


Pay proofing fee
Recommended solution


Make Sample PI

Packing and shipping
Customer receipt


Guided installation and operation
Satisfied to Sign


Confirm bulk order
Products Can Be Custmized
The volume of the reactor has a wide selection range and can be customized according to customer needs;
The material of the equipment can be customized according to customer requirements, and can provide 304, 316, 316L, titanium alloy, Hastelloy, fluorine lining and other materials for selection.
Aishengke (Jiangsu) Chemical Technology Co., Ltd. was established in 2015. It is an engineering company specializing in providing small-scale research and development, pilot-scale scale-up, electronic-grade materials and fine chemicals industrialization equipment for reaction and separation operations. The company's address is located at No. 109, Liuyanghe Road, Xinbei District, Changzhou, Jiangsu Province. It has an office building of 1500 square meters, a R&D and analysis laboratory of 500 square meters, and an equipment processing and manufacturing plant of 4500 square meters.The company has a senior design team and a processing and manufacturing team, including process development, equipment design, 3D modeling and other designers, glass and stainless steel equipment processing and manufacturing groups, to ensure the high level of process technology development, simulation calculation, mechanical design and manufacturing process.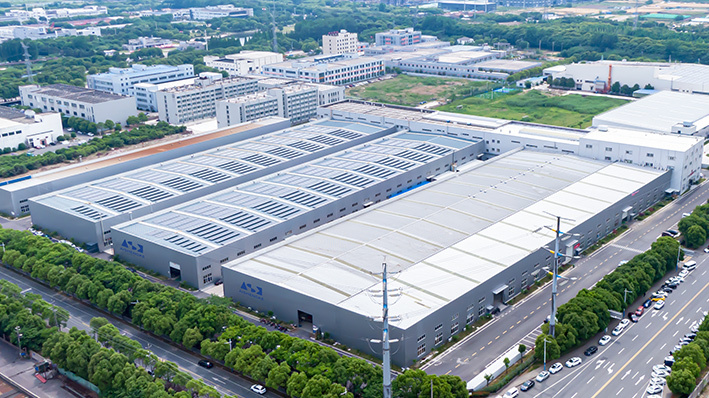 QUALITY
Quality frst is our basic philosophy.
TRANSPORT
Keep strong transportation capacity and excellent price.

WARRANTY
Warranty, parts and labor services.

PROJECT TEAM
A complete project team to provide customers with one-stop service.







Replace damaged parts

One year warranty lifetime maintenance

Online technical support
Process
Shot the acceptance video

Submit video within 7 days with broken or missing parts

Reissue parts by express
undefined
Global recruitment of distributors
If you recognize the brand, technology, products and market prospects of Aishengke, we look forward to establishing a strategic partnership with you for win-win cooperation and development. Looking forward to your joining!