0.1~2kg/h Processing Capacity Laboratory Short Path Molecular Distillation Equipment For Sale
Product Description
AISHENGKE company adopts the Wiped-Film Style, which is very different from the traditional Roller Style, mainly in the scraper system. We use the Smith diagonal chute scraper, which is much more efficient than the roller, Provide first-class laboratory materials, technologies and services to make your research possible.
Share
Laboratory Short Path Molecular Distillation Equipment
working principle:
Short-path distillation (molecular distillation) is a new separation technology that can solve a lot of problems that cannot be solved by conventional distillation technology. Short-path distillation (molecular distillation) is a special liquid-liquid separation technology that can operate under extremely high vacuum. It can separate liquids at temperatures far below their boiling points based on the difference in the mean free path of molecular motion. , especially suitable for the separation of high boiling point, heat sensitivity and easily oxidized systems. Because its distillation temperature is lower than the boiling point of the material, the distillation pressure is low, the heating time is short, and the degree of separation is high, it can greatly reduce the separation technology of high-boiling point materials and protect the characteristics and quality of heat-sensitive materials. This technology is used for the extraction of natural health products, which can get rid of the shackles of chemical treatment methods and truly maintain the natural characteristics.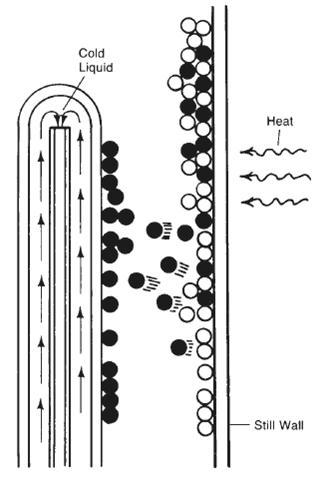 The short-range motion of liquid material when separation occurs in the evaporation chamber
Technical features:

What AISHENGKE company uses is Wiped-Film Style, which is very different from the traditional Roller Style, mainly in the scraper system. We are using Smith diagonal chute scrapers which are much more efficient than rollers, which is well documented. These squeegees provide a high degree of film mixing for optimum heat and mass transfer. In contrast, the rollers only passively roll the material against the walls of the distiller, and do not cause the material to produce an effective small active movement. The chute on the scraper will cause the material to move down around the wall of the still, thus achieving the shortest and controllable material residence time and controllable film thickness. In addition, the scraper will not throw the material away from the distiller walls, causing contamination. However, the roller will have such problems during use. Just like a car tire driving over a wet road, the liquid will definitely leave the road and splash everywhere, polluting the light components that have been separated. The separation effect and product quality will be affected. out of control.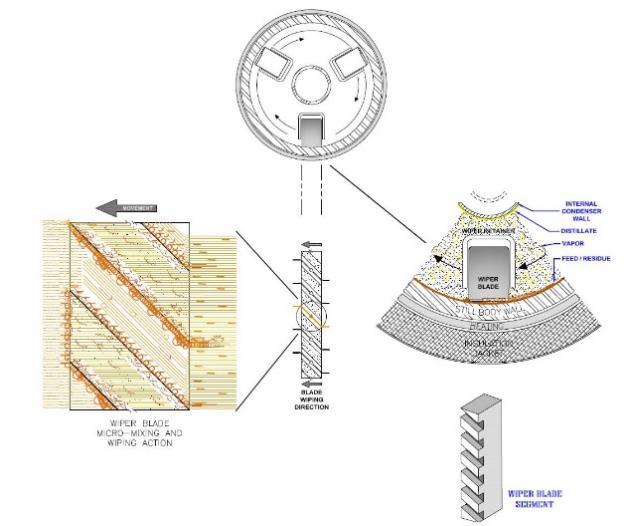 product description:

The laboratory molecular distillation system is a laboratory small-scale experiment and verification device, which is mainly used for new product development or process data collection, and ultimately provides services for pilot scale or industrial scale-up. The main equipment is composed of raw material tank, short-path evaporator, cold trap, light component collection bottle, heavy component collection bottle, vacuum system, control system and other main components. All equipment materials are made of high borosilicate glass, and the short-path evaporator is heated. The method mainly uses heat transfer oil for heating, the built-in condenser is matched with a high and low temperature unit to provide cold and heat sources, and the cold trap is cooled by dry ice/liquid nitrogen.

The device is operated intermittently, please refer to the equipment specification table for selection and purchase.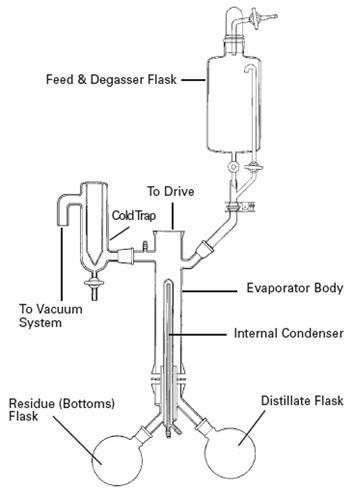 Technical Specification Sheet:
model

AG-FMD60-5

AG- SFE70-10

AG- SFE125-15

AG- SFE150-25

AG- SFE180-30

Evaporator inner diameter

60

80

100

150

180

Evaporator area

0.05

0.1

0.15

0.25

0.3

throughput (depending on product)

0.1~2kg/h

0.1~3kg/h

0.3~5kg/h

0.5~8kg/h

0.6~10kg/h

maximum design temperature
50~300℃ (maximum design temperature), it is recommended to operate at ≤250℃.
degree of vacuum
The vacuum system can be equipped with a one-stage or two-stage vacuum system, and the minimum vacuum degree can reach 0.1Pa
If you need professional molecular distillation answers, you can contact the experts immediately!


Interesting
lnquiry


Inform usage scenarios and technical requirements
Recommended solution


Confirm the details, modify the plan

Customer confirm

Finished product testing, lssue running video and test report

Customer confirm
Production


Pay proofing fee
Recommended solution


Make Sample PI

Packing and shipping
Customer receipt


Guided installation and operation
Satisfied to Sign


Confirm bulk order
Products Can Be Custmized
The volume of the reactor has a wide selection range and can be customized according to customer needs;
The material of the equipment can be customized according to customer requirements, and can provide 304, 316, 316L, titanium alloy, Hastelloy, fluorine lining and other materials for selection.
Aishengke (Jiangsu) Chemical Technology Co., Ltd. was established in 2015. It is an engineering company specializing in providing small-scale research and development, pilot-scale scale-up, electronic-grade materials and fine chemicals industrialization equipment for reaction and separation operations. The company's address is located at No. 109, Liuyanghe Road, Xinbei District, Changzhou, Jiangsu Province. It has an office building of 1500 square meters, a R&D and analysis laboratory of 500 square meters, and an equipment processing and manufacturing plant of 4500 square meters.The company has a senior design team and a processing and manufacturing team, including process development, equipment design, 3D modeling and other designers, glass and stainless steel equipment processing and manufacturing groups, to ensure the high level of process technology development, simulation calculation, mechanical design and manufacturing process.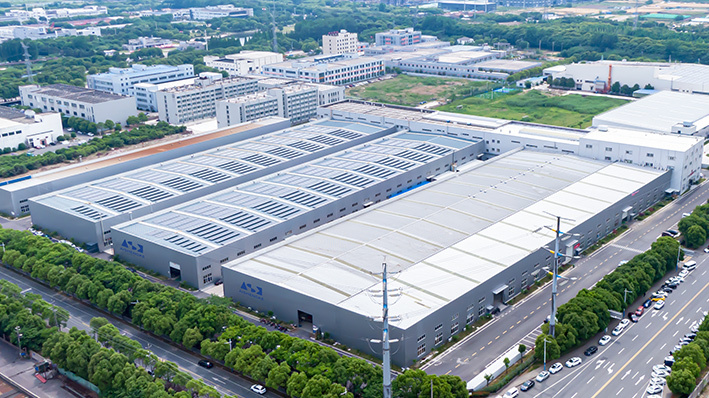 QUALITY
Quality frst is our basic philosophy.
TRANSPORT
Keep strong transportation capacity and excellent price.

WARRANTY
Warranty, parts and labor services.

PROJECT TEAM
A complete project team to provide customers with one-stop service.







Replace damaged parts

One year warranty lifetime maintenance

Online technical support
Process
Shot the acceptance video

Submit video within 7 days with broken or missing parts

Reissue parts by express
undefined
Global recruitment of distributors
If you recognize the brand, technology, products and market prospects of Aishengke, we look forward to establishing a strategic partnership with you for win-win cooperation and development. Looking forward to your joining!